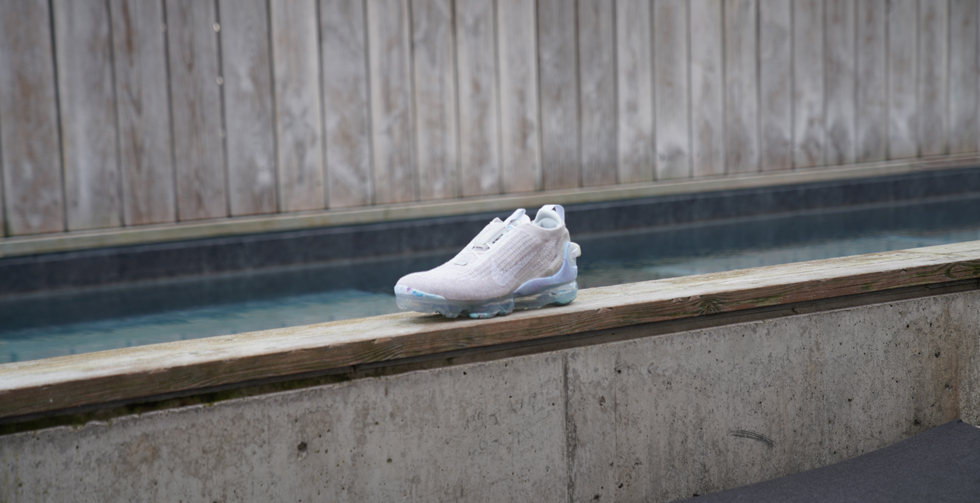 Air VaporMax 2020
To recognize the level of confidence Nike has in this updated, sustainable, and colorful model, it's important to know that they originally unveiled the Nike VaporMax 2020 as part of Team USA's "Medal Stand" collection. These shoes are elevated to the point of national pride.
There's one key word for their increased pride: sustainability. In total, this new VaporMax 2020 design update is made using 75 percent recycled manufacturing waste and the combined weight of the shoe tallies a whopping 50+ percent recycled materials. The upper is constructed using Nike's groundbreaking FlyKnit technology, as opposed to the wastage of cut-and-sew, these yarns are engineered with precision for the least discard. This technique also allows various wonderful colors to intermingle intimately within one material. In addition to that, the yarns are made from about 67 percent post-industrial, reused content by weight, as well as different reconstituted components (including recycled plastic bottle wastage), thus reducing the need to produce more raw, petrochemical material.
Recycling as a theme continues as the OrthoLite sock liner is made from roughly 50 percent recycled material, and the tongue is constructed from 80 percent reused foam, at the very least. The heel and toe guard both contain roughly 60 percent reconstituted TPU, creating a mesmeric pattern that expresses a sense of creativity and vivacity. As for the comfort side, FlyEase technology enables ease of use and adjustability, as well as the VaporMax cushioning underfoot. The Air VaporMax 2020 is a feat of modern engineering; by which it was proved that mass production and sustainability have a positive, symbiotic relationship going forward.