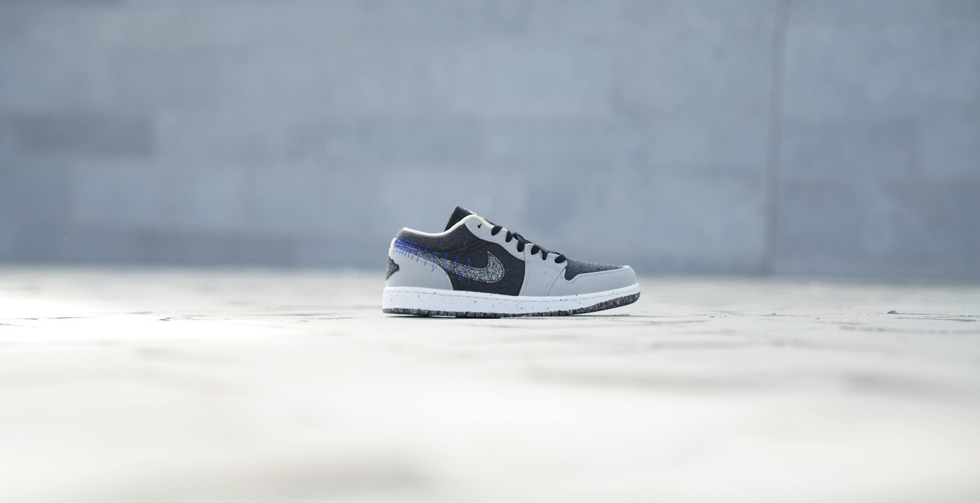 Air Jordan 1
Back in 1984, Michael Jordan entered the NBA draft as a youthful 21 year old. Coming off the back of a successful college career in which he had received multiple accolades and awards, expectations were high, and Jordan was signed by the Chicago Bulls as the third overall pick. However, no one knew just how astronomically successful his career would go on to be. That is, no one apart from some prescient employees at Nike, most notably sports marketing executive Sonny Vaccaro. His steadfast belief in Jordan's abilities drove the brand to put everything into securing a sponsorship deal with the talented youngster. This determination led to an incredible collaboration that eventually became its own brand and still draws in masses of fans to this day. The historic partnership all began with one very special shoe – the Air Jordan 1.
The path to the creation of the first Air Jordan was not a straightforward one. As preparation got underway for the 1984-85 NBA season, the nation's top basketball shoe brands all wanted to sign Jordan. He was clearly going to be an exceptional player, and Nike faced stiff competition from rival companies Converse, whose shoes Jordan had worn throughout his college career, and adidas, which was a fashionable brand in the world of basketball at the time. Nevertheless, the staff in Nike's ailing basketball division worked tirelessly to convince Jordan to go with them, even contacting the player's parents in order to secure a meeting with him at the brand's Oregon offices. Ultimately, after hearing Nike's bold plan to build an entire brand around the future star and with the promise of royalties from every sale on top of the $500,000 per year he was to receive for the partnership, two things no other company had offered him, Jordan signed on the dotted line.
With the deal agreed, Nike could get to work refining the prototype that had been shown to Jordan during their meeting. He wanted something different and exciting with one important design adjustment – a thinner sole. Peter C. Moore, Creative Director at the helm of the Jordan project, was happy to oblige. Taking inspiration from previous Nike designs like the Dunk, the Air Force 1, the Vandal and the Air Ship, which Jordan wore while he waited for his signature model to be completed, he crafted a timeless shoe. It had a hard-wearing but thin rubber sole, a slim, perforated toe and a flowing ankle, making it at once stable, protective and comfortable. It also had a captivating aesthetic and its own unique logo, also designed by Moore. So the story goes, the eccentric designer was on a return flight after a meeting with Jordan's agent, David Falk, when he saw a flight attendant hand a pin to a child. It had a set of wings that caught his eye. During the flight, he sketched out an emblem on a napkin that depicted a similar pair of wings emerging from either side of a basketball. It was the perfect logo, acting as a metaphor for Jordan's sport, as well as his uncanny ability to hang in the air, while also representing Nike's Air cushioning technology. Alongside this distinctive logo, Moore gave the shoe bold color-blocking that really made it stand out. The red and black combination looked great, but it was also completely different to every other basketball shoe seen on the NBA courts of the day. There was one very good reason for this – it broke the league's 51% rule. This stipulated that players could only wear shoes that were at least 51% white and meant that most of those worn in the NBA came in this simple tone and one other color.
Although Jordan was reportedly not sold on the design when he first saw it, the shoe grew on him, and he eventually warmed to it. However, when he first started playing for the Chicago Bulls, he was given a different pair to wear since his new Air Jordans weren't ready yet. The other shoe was the similar Nike Air Ship, which, most importantly, featured the same colors as the incoming Jordan 1. During a preseason game against the Knicks on October 18th 1984, Jordan caused a stir when he took to the court in a pair of rule-breaking Air Ships. NBA executives weren't happy at having their rules contravened, so they sent a letter to Nike's then VP, Rob Strasser, specifically prohibiting the use of the red and black shoes he had on that day. It is rumored that the league threatened him with a $5,000 per match fine for as long as he continued to wear the shoes, but it's unclear how much of that he ever had to pay.
Although he was seen wearing them once again during the 1985 Dunk contest, Nike eventually incorporated more white into the design so that Jordan could continue to use the shoe undisturbed. Nevertheless, the brand's savvy marketing team saw a great opportunity in the ban and set about putting together a now legendary TV commercial. In it, Michael Jordan simply stood there bouncing a basketball up and down while the camera panned down towards his shoes. A voiceover explained that Nike's revolutionary new basketball shoe had been thrown out by the NBA. It went on to highlight the fact that they couldn't stop people from buying the shoe, thus appealing to the rebellious attitude of basketball fans across the country, many of whom began calling it the "Banned" colourway. Despite the fact that the trainer Jordan was wearing wasn't even the Air Jordan 1, nobody could tell the difference on their grainy 1980's TV screens. When it finally released in 1985, the hype that the advert produced, combined with Jordan's stunning first NBA season, in which he garnered a significant fan following and was voted NBA Rookie of the Year, saw the shoe sell out almost immediately.
The Jordan 1 was so popular when it came out that those in possession of a pair were able to sell them on for a profit. At the time, this kind of resale was a first for sneaker culture, but nowadays it is a ubiquitous practice. This shows the incredible success of the first Jordan sneaker, as do the huge numbers associated with its first year of sales. While Nike set a target of around $3-4 in the first three years for the collaboration to continue, they needn't have bothered as the shoe far exceeded that amount in its debut year, making an almighty $163 million. Jordan's monumental success and unique deal started a trend in the basketball world. From that day forward, the sport's most iconic players would get more lucrative agreements with the brands who sponsored them, with modern players making tens of millions.
Following its great start, Nike produced a series of AJ1 colourways. A total of 13 were released in the first year, adding those such as the Chicago, Retro Royal and Carolina Blue to the rebellious Bred (black and red) design. Despite the release of hundreds more colourways in the years since, many of these original ones are still highly sought after today. Back then, though, the AJ1 faded into the background for a while as Nike brought out updated models each year. At the time, they weren't numbered, with each new iteration simply being called Air Jordans. However, as Nike decided to begin bringing back retro models, the numbers were added to distinguish each specific silhouette.
The AJ1 was first reissued in 1994, an awkward time to do so as its namesake had just swapped the basketball court for the baseball pitch. The classic colourways met with limited success as a result, but their release set a precedent that would reoccur again and again over the years. Jordan returned to basketball in 1995, retired again in 1999 and made a final comeback in 2001. To coincide with this, the Jordan 1 had a revival of its own. Nike released both old and new colourways to celebrate the player coming out of retirement once more, one of which was a White Chrome version that was the first to have the instantly recognisable Jumpman logo in place of the Nike swoosh.
Later, in April 2007, Nike released the "Old Love, New Love" pack. It included a retro version of the original Black Toe colourway alongside a brand new black and yellow model that kickstarted a gradual resurgence of the Air Jordan 1. It started slow, with a series of original colourways coming out, some of which were well-received, others not, before things really started to boom in the mid 2010s with some notable collaborations. One was with skater Lance Mountain, a popular member of Nike's skateboarding division who, like many skaters coming up in the late 80s, had adopted the Jordan 1. Its durable leather upper, high ankle and Air cushioning made it a great option for proponents of the sport, and Mountain was famously seen wearing a mismatched pair in the 1987 skate movie The Search for Animal Chin.
While Nike SB's contributions were liked by many, it was the collaboration with Hiroshi Fujiwara's Fragment Design that really took the Air Jordan 1 to new heights. Dropping at the end of 2014, the black, white and royal blue model was somewhat of a throwback to the heyday of the original colourways. Released in limited numbers, it sold out extremely quickly, just like the first AJ1's had. More and more stunning collaborations followed, including ones with movie director Spike Lee, visionary designer Virgil Abloh and his fashion brand Off-White, popular music artist and repeat Nike collaborator Travis Scott, and even luxury fashion house Dior. With this dynamic rise, the Air Jordan 1 became so iconic that its story was brought to the big screen in 2023. Called "Air", the film starred Matt Damon and Ben Affleck and revealed the history behind this phenomenal shoe more than 35 years after its original release, giving its popularity another boost in the process.
In signing Michael Jordan when his career was still in its infancy, Nike showed remarkable vision. This bold act established a collaboration that has since gone down as one of the greatest and most storied in sporting history. As the player expanded and enhanced the game of basketball with his dedication, previously unseen talent and gravity-defying hang time, the Jordan 1 changed the way the sport interacted with culture and fashion. It also caused some major shifts in sneaker culture as the design was celebrated not only because of the fans' admiration for the player, but also because it was a great shoe. This is how it managed to go from being a humble basketball trainer to becoming an icon of popular culture and even a hugely sought after fashion item. It is also what makes the shoe as culturally relevant and beloved as it has ever been. Just like Jordan the man, the Air Jordan 1 will forever be one of the greatest and most influential of all time.